Worship & Arts
Music
The Music Ministry prepares God's people for works of service, by seeking to edify believers along with encouraging and equipping them for the service to God. The music opportunities instill this by teaching sound doctrine through the texts of psalms, hymns, and spiritual songs.
Ministry Schedule: Wednesdays at 8:15pm
Enlightenment Hour (Sunday School)
The Enlightenment Hour provides age-appropriate Bible lessons and learning activities that are both fun and spiritually rich. This is accomplished by presenting the whole council of God and demonstrating the unity, consistency, and sufficiency of the Scriptures for our lives.
Superintendent: Sis. Natica McHenry
Ministry Schedule: Wednesdays at 6:00pm
Deacons
The Deacon Ministry is responsible for supporting the Pastor with the spiritual growth of the church, and the Vision of the Church as he fulfills the Vision that God has given him.
Chairman of Deacons: Dea. Ray Kelley
Praise Dance & Arts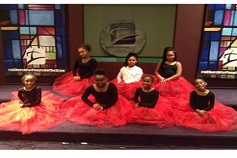 The Praise Dance Ministry seeks to minister to the body of Christ; the saved and unsaved, anyone with a burden and those who are joyful and thankful! With the offering of praise; we invite the Holy Spirit to not only inhabit us but to rain over all those watching and ignite through His Holy Spirit and Power, the recognition that Christ is the answer and hope for our lives.
Princess of Praise (ages 4 – 12 years)
Hosanna Praisers (ages 13 -18 years)
Adult Praisers
Ministry Leader: Sis. Carla Layton
Ministry Schedule: Adult Praise Dancers – Thursdays at 6pm
Saturdays at 10am
1st & 4th – Princess of Praisers
2nd & 3rd – Hosanna Praisers